Company History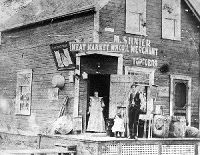 In the early 1930's, when Western Canada was engulfed in dust storms and economic depression, George Edward Shnier, the oldest of twelve children, went to work as a Customs Inspector in the border town of Emerson, Manitoba. In 1938, George resigned from this Government job and moved to Toronto to become the Canadian Sales Representative for two U.S. Rubber Products manufacturers; Sponge Rubber Products Co. of Shelton, Connecticut and Lee Tire and Rubber Co. of Conshohocken, Pennsylvania.

During World War II the supply of consumer rubber goods dried up because of military requirements. In an effort to meet the new demand, George was instrumental in developing a "leak-proof" rubber gas tank lining for military aircraft, which he sold to the Canadian Government. He also set up a small assembly plant for sponge rubber "night vision" goggles with polarized lenses, for motorcycle dispatch riders.



In 1944, George's brother Irving joined him. Irving contributed to the building of their warehousing and distribution business by travelling and selling consumer and industrial rubber products to the wholesale hardware trade and department stores.





George and Irving had a younger brother Norman, who had enlisted in the Air Force during the War. When his plane was shot down in a raid over Germany, Norman served time in a Prisoner of War camp. After the war ended, Norman returned home with his accumulated pay of a few thousand dollars and invested that money in the business. About a year later, in 1946, Norman came to Toronto and joined the business.





In 1947, the boys' father, Moses Shnier, was asked to open up a business in Winnipeg as a sub-agent for the Toronto company. Moses was joined in 1948 by the youngest Shnier brother, Allan, and together, they operated the EAGLE DISTRIBUTING COMPANY.





About that time, a Mr. Fred Daley of Sponge Rubber Products Co. developed a means of manufacturing his sponge rubber in sheet form to be used as undercushion for carpet. In addition to being the agent already for other Sponge Rubber Products Co. lines, the GEORGE E. SHNIER & COMPANY LIMITED was granted the exclusive sales rights to this new allergy-free, premium undercushion, named Spongex Sponge Rubber Carpet Cushion. So, at this point in history, the SHNIER Company turned the main thrust of its attention to the floor covering business.

The brothers persuaded Mr. Daley to set up a sponge rubber manufacturing plant in Canada in order to save on import duties. A new modern plant was built in Waterville, Quebec, not far from the Connecticut plant. The GEORGE E. SHNIER & COMPANY LIMITED developed grades and standards for Sponge Rubber Carpet Cushion that were used throughout North America.

During the early 1950's, the company introduced the Monarch brand tufted broadloom carpeting (today's standard, but new at that time) into Canada. The carpeting was manufactured from cotton yarns, as well as from synthetics such as nylon and viscose. Monarch was a division of Barwick Carpets of Dalton, Georgia.





At this time, the SHNIER Company occupied premises on several floors of a building located at 221 Richmond Street West, in downtown Toronto. In 1955, when the company was in need of more suitable premises and additional staff, brother Cecil left his investment business and photographic pursuits in Oklahoma and moved to Toronto to become a partner in his brothers' business. Cecil's first project was to coordinate the move to a modern warehouse comprising of 30,000 sq. ft. on one floor at 1320 Jane Street in the Toronto suburb of Weston, and to recruit some additional employees.





After the new building had been completed, Sponge Rubber Products Co. offered the Shnier brothers the distribution rights for their foam rubber furniture cushioning, a relatively new product which they had perfected. Foam fabricating facilities were set up in Toronto, Winnipeg and Montreal, forming a new division of the GEORGE E. SHNIER & COMPANY LIMITED (and later of GESCO INDUSTRIES INC.), that was eventually named GENERAL FOAM AND CUSHION.





While 1957 was a good year for Mr. Daley, because he sold his business to the B.F. Goodrich Co., it was also a good year for GEORGE E. SHNIER & COMPANY LIMITED. It was in 1957 that the company began a long and mutually rewarding relationship with the flooring division of the Armstrong Cork Co. (later re-named Armstrong World Industries, Inc.) Distribution rights to Armstrong resilient flooring began with Ontario and a couple of years later included Manitoba.

1962 was a year marked by several events.

EAGLE DISTRIBUTING LTD. of Winnipeg was merged into GEORGE E. SHNIER & COMPANY LIMITED and EAGLE's owner, Allan Shnier became the fifth brother to join the business partnership.

Also in 1962, another brother, Philip, a professional Engineer, joined the business partnership in Toronto.

Philip's years with the company were spent in operations, including overseeing the building of warehouse facilities across Canada.


1962 marked the only year that six brothers were operating the business together, as later that year, tragedy struck when George, the oldest and original founder, had a severe heart attack and died suddenly.

In compliance with previously documented agreements, George's widow sold her shares to the remaining five brothers and they continued on as equal shareholders.

Until now, George had been President.

Upon his passing, Irving became President.

In approximately 1965, the company acquired the George R. Oake Co., a dry goods and flooring wholesale business in Edmonton and Calgary, and merged it into their company. For the next couple of years, the company distributed Domco hard surface flooring and Coronet carpet in Western Canada.

Also, during this time frame, the company was appointed the Distributor for Celanese Carpets, in Ontario.

In addition, it was distributing several other carpet lines across Canada, and was not only the largest floorcovering distributor in Canada, but it was also the fourth largest in North America.

In the mid 60's the company initiated an expansion program that resulted in the construction of distribution centres in Regina, Saskatoon, Calgary and Vancouver, as well as the enlargement of existing centres in Montreal and Toronto.

In particular, the company, having outgrown its building on Jane Street.

The brothers built a new Head Office with a much larger warehouse on Lawrence Ave. West, also in the Weston suburb of Toronto, and in 1965 moved to 1965 Lawrence Ave. West.

In 1969, in order to raise funds to finance future growth, GEORGE E. SHNIER & COMPANY LIMITED became a public company with approximately 20 % of the shares listed on the Toronto Stock Exchange under the name of GESCO DISTRIBUTING LTD. (Now GESCO INDUSTRIES INC.)

GEORGE E. SHNIER & COMPANY LIMITED

became G.E. SHNIER CO., a division of GESCO.

All the funds raised from the public offering went into the treasury of the company to be used to finance future growth.

Later in 1969, the company acquired the assets of the Trimont group of floorcovering companies in Montreal and increased their overall distribution rights for the Armstrong line to include the Province of Quebec.




In 1970, the Winnipeg branch moved to a new facility and satellite warehouses were opened in London and Dartmouth, while the Saskatoon depot was closed and that trading area was serviced by the Regina branch.

In addition, that year GENERAL FOAM AND CUSHION, the furniture products division, moved its Toronto branch out of the Lawrence Avenue location to its own separate premises.


In 1971 the company set up a division named CARDINAL INDUSTRIES as a parallel national distribution channel.

This division sold Ceramics and allied products as well as hardware specialty products including "Protecto" floor runners and mats.

In 1976 PHOENIX FLOOR AND WALL PRODUCTS was established, replacing the CARDINAL division.

The company began distributing Ozite needlepunch floorcoverings in both roll and tile form in Toronto in 1972.

In 1974, the distribution of these products was expanded to the Ottawa region.

During the 1970's the company expanded its distribution of Ozite products to include all of Canada.

In 1973 Norman Shnier was appointed Chief Executive Officer.

Two new depots were opened, Ottawa and Thunder Bay, in 1974.

Also, the company moved to larger facilities in Dartmouth and Edmonton.

The Winnipeg branch of GENERAL FOAM AND CUSHION moved into its own separate premises.

By this time G.E. SHNIER CO. had nine distribution centres and offices.


In 1974 the company introduced the GESCO DISTRIBUTING LIMITED Employee Participation Plan providing a profit sharing opportunity for its 450 employees.

G.E. SHNIER CO. introduced its own brand, RICHMOND CARPETS, in 1975.

This range of broadloom carpeting was and continues to be engineered and designed by G.E. SHNIER CO. and custom manufactured for the company by leading manufacturers in Canada and the United States affording "state of the art" machinery.

The company also inaugurated the RICHMOND CARPET CLUB, a merchandising and automatic sampling program for independent flooring dealers.

This Program was a first of its kind in Canada and perhaps North America.

In its second year, RICHMOND CARPETS was a leader in carpet Brand recognition in Canada.


In 1975, two of the second generation Shniers joined the business, Cliff, Allan's son and Bonnie, Irving's daughter.

About that time, Irving retired from active involvement and was appointed Chairman of the Board.

Norman was appointed President.

The EAGLE DISTRIBUTING division which had been merged into G.E.SHNIER sometime earlier, was re-born and took over the responsibility for distributing the Armstrong products, Ozite carpets, and in 1979, its own brand of carpet named WESTON CARPETS.

Both divisions sold flooring supplies.

Meanwhile, back at the Winnipeg branch, Allan Shnier was working to reduce freight costs to Western Canada.

It became apparent that while none of the Western branches by themselves could generate enough volume to make up a full carload, shipments from the various suppliers in the Montreal and Toronto areas, for the five branches together, could make up one full trailer load at least once every two weeks.

Once the goods arrived in Winnipeg, the goods were re-assembled for shipment to the other western branches.

This shipping and re-assembly function was called the GO (GESCO Operated) West Division.

Eventually a similar operation, GO East was set up in Toronto.

At this time, the GO Service owned its own fleet of trucks.

While the concept continues to this day, in 1990 this division outsourced the ownership of the actual trucks.

As a result of the success of the previously launched private brand of RICHMOND

CARPETS, in 1978 the company introduced Polystar Urethane Carpet Cushion, to complement its Premium Sponge Rubber Carpet Cushion.

Polystar was succeeded by the company's own brand, RICHSTEP in 1985, and subsequently RICHMOND Urethane Carpet Cushion.

Cecil Shnier retired in 1978 and in 1979, Philip's son, Mark, was the third member of the second generation to join the company.

From the time it moved out of its original downtown Richmond Street premises, the company has always availed itself not only of the most modern warehousing methods, but also of the most automated data processing procedures.

By 1979 the company operations were put completely

"on-line", and the benefits of this new system became apparent immediately.

An order entry system was installed permitting a customer service representative in any branch to access the inventory in any other branch, causing that branch's printer to write up an order for shipment.

G.E. SHNIER CO. was the first Canadian floorcovering distributor to go "on-line", and today continues to have a state-of-the-art floorcovering computer system. |

As the company required more space in 1979, the Winnipeg branch of GENERAL FOAM AND CUSHION moved to larger premises, as did the Edmonton branch of G.E. SHNIER CO.




In 1980, the company rescued a faltering carpet mill, and re-named it CLAIRVILLE CARPET MILLS.

CLAIRVILLE manufactured products to complement the out-sourced RICHMOND residential and commercial product range but had a special ability to also produce quality custom commercial broadloom.

This manufacturing operation was located in Rexdale, about a fifteen minute drive from G.E. SHNIER CO.'s head office location on Lawrence Avenue.

For a period of three years, 1980-83, through a wholly owned subsidiary, GESCO entered into an agreement to operate the Floorcovering Departments in an eleven store Junior Department Store Chain in Southern Ontario.

Also during 1980, GESCO acquired an interest in UNITED FIBRE-BOND,

a company which manufactured fibre products used in the mattress and upholstery trades.


It was in 1981 that the corporate name of GESCO DISTRIBUTING LTD. was changed to GESCO INDUSTRIES INC.

(LES INDUSTRIES GESCO INC.).

In conjunction with the difficult economic times of the early 80's, the company sold GENERAL FOAM AND CUSHION in 1982 to its main supplier, Woodbridge Foam Corporation, in an effort to turn their resources more intensely to the floorcovering part of the business.

As a further cost saving measure, the EAGLE and SHNIER divisions in Quebec were merged into one, G.E. SHNIER CO.

During this period the company also sold some of its interest in UNITED FIBRE-BOND, eventually selling it completely in 1989.

In 1982, Philip Shnier was appointed President, Norman was appointed Chairman continuing for several years until his retirement in an active role in the day to day business, and Irving became Honourary Chairman.

Norman's son, Paul, joined the business in 1983.

In addition to having a sophisticated system for internal use, the company developed a system for its customers known as COLA (Customer On Line Access), which enables customers with the system the ability to check stock and place orders 24 hours per day, 7 days per week.

This program was introduced during 1984.

Coinciding with this technological advancement, the company also went on line internally with a state-of-the- art accounts receivable system.

In 1985 the remaining divisions of EAGLE and SHNIER were merged under G.E. SHNIER CO.

Recovering from the economic difficulties of the early 80's, the company consolidated by closing the branches/depots in Regina, Thunder Bay and Edmonton and vacated the overflow space they had maintained in the original Jane Street location in Toronto.

On the sales growth side, PHOENIX FLOOR AND WALL PRODUCTS expanded their sales efforts beyond the Ontario market to include Quebec.

Also in 1985, CAMDEN CARPETS INC. was established.

The CAMDEN CARPETS concept is similar to a franchise concept, offering total store merchandising and advertising support along with various other support services, in return for the store's total commitment to displaying and selling G.E. SHNIER CO. products only.

For a two and a half year period, 1985-87, John Macdonald was Chief Executive of the company, working with the President, Philip Shnier and other senior members of the second generation to lead the company.

1986 saw the launch of a new and innovative internal Quality Program which the company named QUEST.

QUEST continues to exist today and stands for QUALITY, EXCELLENCE, SERVICE, and TEAMWORK.

This Program is intended to involve every single employee in the continuous effort to operate with zero defects, with the purpose of improving service, increasing sales and lowering costs.

As the 80's continued, the RICHMOND carpet lines continued to be sourced to a greater degree than ever from the company's own CLAIRVILLE CARPET MILLS.

This evolution led to the logical move of renaming the mill to reflect this tighter dependency on the RICHMOND product lines.

In 1988 the mill was renamed RICHMOND CARPET MILLS.

However, the CLAIRVILLE trade name continued to exist and was used for carpet manufactured specifically for sale in the United States.

Along with the renaming of the mill, in 1989 G.E. SHNIER's RICHMOND commercial carpet sales force moved their headquarters from Lawrence Avenue to the mill location in Rexdale, and was given a separate identity as "RICHMOND COMMERCIAL".

Until 1989, each of the senior Shnier brothers had been Directors of the Corporation.

In 1989, Irving stepped aside and his daughter, Bonnie Shnier Moncik, was appointed to the Board.

Irving became an Honourary Director.

In 1989, G.E. SHNIER CO. acquired the Armstrong distribution rights for the Maritimes.

During the next few years, the lower to mid-priced carpet lines previously named WESTON, underwent some expansion and name changes ,first to EAGLE in 1989, and then in 1990 to VANTAGE.

Also in 1990, the company ceased distributing the Ozite line and opted to launch its own private label runner and seasonal carpet programs under the names INTEGRA and SUNQUEST.




In June, 1990, as Philip Shnier retired from the active involvement, Bonnie Shnier Moncik was the first member of the second generation to be appointed President.

Philip was appointed Vice Chairman.


The RICHMOND CARPET CLUB (RCC) introduced a new and exciting fashion-oriented display system in 1990, followed in 1991 with the launch of a tighter alignment program for committed RCC dealers known as the RICHMOND FLOORSTYLE STUDIO group.

Cecil's son, Maury, joined the company in 1991 and each family now had a member of the second generation working in the business.

1991 was a significant year for the Canadian economy in general as the FST (Federal Sales Tax) component incorporated into Canadian manufacturer's pricing was eliminated, and replaced with the GST (Goods and Services Tax), a tax imposed on consumers at the retail level.

This alternate taxation method had a direct effect on the company's sales and profit levels as sales automatically decreased by approximately 13.5% and profits declined relating to the loss of margin on those sales dollars.

Compounding this situation, a nation-wide economic recession was acknowledged.

Concurrently with these difficult times, there was an unexpected steady increase of U.S. imported carpeting into Canada.

After a lengthy investigation, Revenue Canada ruled that U.S. carpet mills had in fact been breaking the trade rules by "dumping" products illegally into the Canadian floorcovering market.

While the U.S. Companies appealed the ruling in 1992, it was upheld.

The company consolidated its Ontario distribution facilities by closing its London and Ottawa warehouse depots.

The Ottawa depot was replaced with a showroom and sales office.

Order entry for those locations was consolidated into the Toronto customer service department, with some of the French speaking Ottawa customers switching their order entry location to the Montreal branch.

A warehouse distribution facility was opened in Dalton, Georgia.

Also during 1992, when other companies were pulling back, G.E. SHNIER CO. designed and implemented the first advertising campaign of its kind by floorcovering suppliers, for its FLOORSTYLE STUDIO dealers.

Millions of home owners received RICHMOND advertising booklets several times a year, delivered directly to their homes, with their local FLOORSTYLE STUDIO dealer's name on the back page.

In an effort to lower costs in 1993, while at the same time improve service with better trained customer service representatives, customer service order entry points were consolidated in Western Canada, by eliminating those functions in the Vancouver and Winnipeg branches and centralizing for the West in Calgary.

As a result of a decision to restructure the company, GESCO sold its PHOENIX FLOOR AND WALL PRODUCTS division in 1993, focusing its entire floorcovering attention on its G.E. SHNIER CO. division.

That year, the G.E. SHNIER CO. launched two new products, RICHMOND FIBRE CUSHION and RICHMOND WINDOW WORKS, a line of window blinds.

The company exited the window blinds business a couple of years later.

In 1993, Cecil stepped aside and his son, Maury, was appointed a Director of the Corporation.

Also in 1993, Allan Shnier, the youngest brother in the first generation, retired from active involvement.

In response to the company's strategic decision to focus all its resources on the marketing, merchandising and logistical functions, associated with the floorcovering industry, GESCO sold the assets of its manufacturing facility at RICHMOND CARPET MILLS to National Fibre-Tech, Inc. on March 7, 1994.

GESCO kept the rights to the RICHMOND brand name.

1995 was a significant year, technologically, as intense efforts were dedicated to the preparation of the organization for the conversion of the company's computer system from its Bull (originally Honeywell) main frame environment with its own internally programmed software, to the new comprehensive Dancik software program designed specifically for floorcovering distributors, operating on IBM AS/400 hardware.

The company actually converted systems on October 1, 1995, the first day of the company's 1996 fiscal year.

At this same time, Armstrong granted to the G.E. SHNIER CO. sole distribution rights to its products in the Maritimes, making this the first region in Canada to have the historic dual distribution situation eliminated.

Also in 1995, Perstorp, a Swedish manufacturer of laminate flooring, named Pergo, granted exclusive national distribution rights to its products to be launched during the 1996 fiscal year.

This flooring category was virtually new to Canada, having been sold in the United States for a couple of years.

There was a major sales force reorganization in 1995 as the sales management and representatives were divided by product with one group carrying only the Armstrong product line and the other group carrying all other products.

Other 1996 marketing introductions included the RICHMOND DECOR

CARD consumer credit card, specifically for RICHMOND FLOORSTYLE STUDIO members, and the introduction of RICHMOND area rugs.

During 1996 exclusive national distribution rights were acquired for the Anderson Hardwood flooring line and for independent carpet retailers, the Images Hardwood line.

While these lines were launched simultaneously during 1997, the company worked on the development of its CASA ROMA ceramics program, preparing for its launch in 1998.

In June, 1997, Bonnie Shnier Moncik chose to relinquish her position as President and was appointed Vice Chairman, maintaining an active full time role in the business.

Edward duDomaine joined the company at that time as President and Chief Executive Officer.

Throughout the winter months of 1998, the company's alignment programs for independent dealers, the RICHMOND CARPET CLUB and the RICHMOND FLOORSTYLE STUDIO programs, were updated, modernized and launched under the new name, the FloorsFirst, by RICHMOND.

This new name with changes to the program, better reflected the G.E. SHNIER CO.'s expanded floorcovering product range, as well as its newly defined role as a total FloorsFirst company.

In the summer of 1998, Armstrong World Corporation, one of G.E. SHNIER CO.'s key suppliers completed their North American plan to grant exclusive distribution rights to their products in each region.

Up to that date, G.E. SHNIER had dual distribution rights in Alberta, Manitoba, Saskatchewan, Ontario, and Quebec, and sole rights in Nova Scotia, New Brunswick and Prince Edward Island.

Armstrong made the decision to reduce their distributors in Canada from three to two, and granted the G.E. SHNIER CO. exclusive rights to their products in the Eastern Canadian Provinces of Ontario, Quebec, Nova Scotia, New Brunswick and Prince Edward Island.

While the rights to the three Western Provinces were withdrawn from G.E. SHNIER CO., the company netted ahead in sales with this new arrangement, so this was a corporate win for the company.

During 1999 the Company invested in a new IBM AS400, reconfigured iCOLA (Customer On Line Access) for full use on the internet, and launched a new business to business site, and consumer website. In addition to this, the Company consolidated its customer service departments from various regional branches across the country into two centralized customer service centers, one in Toronto and one in Montreal.
In March, 1999, Armstrong World Industries added its DLW linoleum line and its new laminate program to the Company exclusively for eastern Canada ( Ontario, Quebec and the Maritimes). An additional proprietary ceramic line under the San Marco brand was introduced later that year.


Milliken Industries awarded G.E. SHNIER CO. exclusive rights to market and sell their carpet, runner, rug and accessory programs nationwide. This program was launched in April, 2000. Also during 2000, the Company launched a comprehensive Integrated Digital Marketing initiative which included offering Internet web site design services to our retailers. That year the Company secured exclusive national distribution rights for the Marazzi Tecnica line of commercial ceramic products.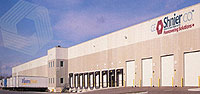 Two other very significant events occurred in 2000. Firstly, after 35 years in the Lawrence Avenue location in Toronto, the Company moved its Head Office to a brand new, state-of-the-art 255,000 square foot logistics centre at 50 Kenview Blvd. in Brampton, Ontario, located near Finch Avenue and Hwy 427 not far from Toronto's Pearson Airport. This custom designed building was complete with 35,000 square feet of office space, several meeting and conference rooms, an on-site installation school, a beautiful and modern showroom, and well designed pick up and delivery areas supported by 38 shipping and receiving doors.
Secondly, as stated much earlier, in 1969 GESCO INDUSTRIES INC. was formed to be the Holding Company operating G.E. SHNIER CO., with the purpose of taking the Company public. After 31 years as a Public Company trading on the Toronto Stock Exchange, in March 2000, the Shnier Family proceeded with the privatization of the Company, purchasing all outstanding shares held by the Public. The original purpose for going public no longer was relevant, and alternative preferred financing sources had, for a long time, been more readily available. Many of the benefits of being a Public Company became outweighed by the costs and regulatory constraints imposed on closely-held Public Companies.
2001 was significant for our dealer alignment program as we re-launched our previous Floorcovering Solutions Alliance program under the new FloorsFirst banner. In the Spring of 2001 we held our inaugural FloorsFirst Summits, one in Toronto and one in Calgary. These Conventions were designed to provide our most aligned customers with formal opportunities to have input into the future development of our program as well as for some industry education.
The Company expanded the services of our installer training school this year to include training for Armstrong vinyl products and introduced a Pergo "Master Installer" program.
In 2001 GESCO purchased a majority of the shares of Super Choice Warehouse and Distributors Limited, which conducted business as "The Mat Kings", with the intent of utilized product and customer synergies to grow both G.E.SHNIER CO. and The Mat Kings.
In March 2002, Clifford Shnier left the employment of the Company. Clifford remained as a Director of the Corporation for the following twelve months.
In the Spring of 2002 the Company hosted its second FloorsFirst Summit, this time making it one National event in Toronto.
Also during 2002 the Company introduced "QuickBase" to improve internal information communications and efficiencies. QuickBase, along with enhancements to iCOLA, our internet based customer on line access system, vastly improved our business to business information capabilities.
FLEX 5 Logistics Inc., a new operating division, was created in 2002, to leverage our logistics expertise and utilize our professional Kenview facility and resources.
The Company introduced a new private label LAURENTIAN hardwood line in the latter part of 2002, closely followed by the introduction of a complimentary private label LAURENTIAN laminate line in 2003.
The EAGLE Division introduced CGC's Fiberock underlayment throughout Ontario, Quebec and the Atlantic Provinces.
In 2003, the Company hosted its third annual national FloorsFirst Summit in Toronto, with increased attendance.
During 2003, the Company began to develop its recently introduced Integrated Warehouse Management System, working toward a more automated warehouse.
March, 2003, witnessed a change in the shareholdings of the GESCO INDUSTRIES INC., as the Irving, Cecil, Norman and Philip Shnier families reconfirmed their commitment to the Company by purchasing the shares of GESCO previously owned by the Allan Shnier family. This led to a change in the Board of Directors as Clifford resigned and the Board of Directors continued to be comprised of the other incumbents, Philip Shnier, Bonnie Shnier Moncik, Paul Shnier and Maury Shnier.
A new flooring category, Wicanders Cork, was introduced by the Company in 2004. As well, a new merchandising Tango display system and SHNIER SHOWROOM ADVANTAGE (SSA) merchandising program were introduced to our retailers as we upgraded and modernized our dealers' showrooms while at the same time increasing our real estate space with dealers.
In 2004 the Company was appointed the exclusive Canadian distributor for Edge Flooring, a brand new category to the flooring industry. This category was a totally new flooring system, composed of a ceramic tile veneer affixed to a laminate backing, which was designed to ease and reduce the time it took to install a ceramic floor.
A sample fabrication department was initiated in our Brampton facility during 2004, in order to more immediately and more effectively meet some of the more urgent sampling requirements of our customers.
The Company held its fourth annual national FloorsFirst Summit in Toronto in the spring of 2004, once again with an increased attendance.
During 2004 the Company continued to develop its Integrated Warehouse Management System at its Brampton head office location to the point of having this warehouse operational with wireless Radio Frequency (RF) Scanners.
In March, 2005, the Company sold its investment in The Mat King.
In the spring of 2005 the Company hosted a successful fifth annual national FloorsFirst Summit in Toronto.
During 2005, keeping step with the global sourcing trends, we expanded our sourcing of Hardwood to Europe, Asia and South America and our sourcing of Ceramics in Europe and Asia.
In June, 2005, sparked by strong growth of our sales in the BC market and increased sourcing from the far east, the Company moved into a larger facility in Vancouver which had double the warehouse space and twice the number of shipping doors
During 2005 we forged a strategic alliance with J&J Industries of Dalton Georgia, one of North America's leading Commercial Carpet Mills. Our Company obtained exclusive rights to all J & J product sales made within Canada. The J & J company mirrors our own culture and composition, also being Family owned and Directed. This alliance has allowed us the opportunity to increase our foothold into the commercial specifiable marketplace.
We were very honoured when one of our National Accounts awarded us Supplier of the Year, for 2005, based on their increased level of purchases from us, and the quality of our service, both internal and in-field.
During 2005 we continued to increase the professionalism within our company, with increasing emphasis on more professional sales growth planning processes in many areas of our business such as customer profiling, account planning, brand planning and channel planning.




In March, 2003, the IRVING SHNIER, NORMAN SHNIER, CECIL SHNIER AND PHILIP SHNIER FAMILIES purchased the shares of the ALLAN SHNIER FAMILY.

The remaining four first generation Shnier brothers are all retired from active involvement in the daily affairs of G.E. SHNIER CO.

All four brothers have been appointed Honourary Directors: The other three of the first generation family are Honourary Directors:

Irving Shnier, Honourary Chairman
Norman Shnier, Chairman Emeritus
Cecil Shnier
Philip Shnier




George Edward Shnier, was the original founder, President from 1938 until his untimely death in 1962.

Irving Shnier
was the second to join the business in 1944, and was President from 1962 until his retirement at the age of 65, in 1975, at which he continued on as a Director and Chairman of the Board.

In 1983 he relinquished his Chairman position and Norman was appointed Chairman.

Irving remained a Director until 1989, at which time he stepped down from the Board and his daughter Bonnie Shnier Moncik was elected as a Director. He has continued as an Honourary Director and Honourary Chairman.



Norman Shnier

, in 1946, was the third brother to join the business.

Norman became Chief Executive Officer in 1973 and was President from 1976 until 1983, at which time he assumed the Chairman title, remaining active in the business.

When he retired in 1985, he continued as a Director and Chairman of the Board until June 2000, at which time he stepped down from the board and his son Paul Shnier was elected as a Director. Norman has continued as an Honourary Director and Chairman Emeritus.




Cecil Shnier
, in 1955, was the fourth brother to join the business.

Cecil retired in 1979, remained a Director until 1993, and his son Maury Shnier was elected a Directorship that year. He has continued as an Honourary Director.


Philip Shnier , also in 1962, joined the business as the sixth brother. Philip was appointed President in 1983 and retired in 1990, becoming Vice Chairman. In June 2005, Philip stepped down from the Board and his son Mark was elected as a Director. He has continued as a Honourary Director.

There are currently three members of the second generation Shniers employed at G.E.SHNIER CO.

Bonnie Shnier Moncik, Irving's daughter, joined the Company in 1975. Bonnie holds a Bachelor of Arts degree from the University of Toronto and has the designation of Certified Human Resources Professional (CHRP). She began her career at GESCO as the Personnel Assistant at the previous division of GENERAL FOAM AND CUSHION and over the next few years broadened her scope to become the Assistant to the General Manager there. In 1982, she was transferred to the flooring division and was promoted to the National position of Human Resources Manager for GESCO and G.E.SHNIER CO. In 1988, Bonnie was appointed Vice President, GESCO INDUSTRIES INC., maintaining her title National Human Resources Manager. In 1989, Irving resigned from, and Bonnie was elected to, the Board of Directors of GESCO INDUSTRIES INC. Later that year, Bonnie was appointed Executive Vice President, GESCO INDUSTRIES. In June, 1990, Bonnie was the first of the second generation to be appointed President, GESCO INDUSTRIES INC. In April, 1997, Bonnie chose to relinquish her role as President of the Corporation and was appointed Vice Chairman, GESCO INDUSTRIES INC., maintaining a full time active role, with responsibilities covering Human Resources, Corporate Relationships and Corporate Development. In June, 2000, Bonnie was appointed Chairman of the Corporation, continuing her active role in the Company. In March, 2006 the overall responsibility for the Human Resources Department was fully transitioned to Ed duDomaine, the President and C.E.O. Bonnie continues her active role in the Company, focusing on specific projects and Long Term Strategic Planning.

Mark Shnier, Philip's son, joined the Company in 1979 as Inventory Manager. Mark holds an Industrial Engineering degree from the University of Toronto as well as a Masters of Business Administration from York University. In 1984, he was promoted to the National position of Controller. In 1987, Mark was appointed Vice President Finance and Administration, GESCO INDUSTRIES INC. In the summer of 1993 Mark moved to the RICHMOND CARPET MILLS manufacturing division as General Manager. When it was sold in March of 1994, he returned to the G.E.SHNIER CO. division as Vice President, Customer Service and Logistics, with additional responsibility for the Information Systems. In June, 2005, Mark relinquished his responsibility for Customer Service and Logistics, maintained responsibility for the Information Systems and Inventory Management Departments, and was appointed Vice President, Strategic Process Development. Also in June, 2005, Philip resigned from, and Mark was elected to, the Board of Directors of GESCO INDUSTRIES INC.



Paul Shnier
, Norman's son, joined the Company in 1983, beginning his career at CLAIRVILLE CARPET MILLS (later named RICHMOND CARPET MILLS). Paul has an Industrial Engineering Certificate from Ryerson . After a year and a half as a Lab Technician at CLAIRVILLE, Paul spent a year and a half as a G.E. SHNIER CO. customer service representative, moving back to the manufacturing division in 1986 as Product Development and Systems Manager. In 1989, Paul moved into Sales and became a Commercial Flooring Sales Representative for the RICHMOND COMMERCIAL division. In 1992, Paul once again returned to manufacturing in the role of Manager, Quality and Customer Service. When the Mill was sold in the spring of 1994, Paul joined the distribution division as an Ontario Contract Sales Specialist. In 1995 Paul assumed the additional role as National Product Manager for Flooring Accessories. Responsibilities for marketing the COLA (Customer On Line Access) Program were added in 1997, while at about the same time, Paul relinquished his Contract Sales duties. From 1998 to March, 2006, Paul served as the Product Manager for Seasonal Products. In June, 2000, Norman resigned from, and Paul was elected to, the Board of Directors of GESCO INDUSTRIES INC, taking on the responsibility of Corporate Secretary. In 2001, Paul assumed the additional responsibility for Internal Audit.
Maury Shnier , Cecil Shnier's son, joined the Company in 1991. He served the organization in various sales and marketing positions until April, 2005, when he chose to leave the employment of the Company to pursue other interests. In 1993, Cecil resigned from, and Maury was elected to, the Board of Directors of GESCO INDUSTRIES INC. Maury continues to serve on the Board.

Since June, 2005, the Board of Directors for GESCO INDUSTRIES INC. has been Bonnie Shnier Moncik, Maury Shnier, Paul Shnier and Mark Shnier.